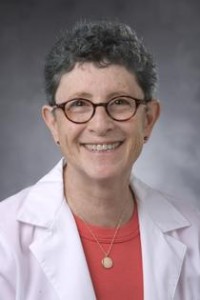 Director: Joanne Kurtzberg, M.D.
Jerome S. Harris Professor of Pediatrics
Professor of Pathology
Director, Pediatric Transplant and Cellular Therapy Program
Director, Carolinas Cord Blood Bank
Co-Director, Stem Cell Transplant Laboratory
Dr. Kurtzberg is an internationally renowned expert in pediatric hematology/oncology, pediatric blood and marrow transplantation, umbilical cord blood banking and transplantation, and novel applications of cord blood in the emerging fields of cellular therapies and regenerative medicine.   Dr. Kurtzberg serves as the Director for the Marcus Center for Cellular Cures, Director of the Pediatric Blood and Marrow Transplant Program, Director of the Carolinas Cord Blood Bank, and Co-Director of the Stem Cell Transplant Laboratory at Duke University.
Dr. Kurtzberg's research focuses on translational studies from bench to bedside with a focus on bringing cellular therapies in regenerative medicine to the clinic. Recent areas of investigation, which are funded by the Marcus Foundation, include the use of autologous cord blood in children with neonatal brain injury, cerebral palsy, and autism, as well as preclinical studies manufacturing microglial oligodendrocyte-like cells from cord blood to treat patients with acquired and genetic brain diseases. Studies of donor cord blood cells in adults with stroke and children with cerebral palsy and autism are also underway.
Dr. Kurtzberg's lab has developed novel assays enumerating ALDH bright cells to predict cord blood potency from segments attached to cryopreserved cord blood units, and is performing translational research testing cord blood expansion, cellular targeted therapies and tissue repair and regeneration. Dr. Kurtzberg currently holds several INDs for investigational clinical trials.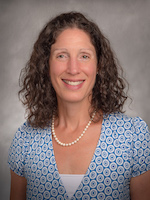 Deputy Director: Beth Shaz, MD
Professor of Pathology
Director, Robertson GMP Laboratory
Co-Director, Stem Cell Transplant Laboratory
Associate Director, Carolinas Cord Blood Bank
Before joining MC3 with her 20+ years of experience, Dr. Shaz was most recently the Executive Vice President, Chief Medical and Scientific Officer of the New York Blood Center, one of the largest independent, community-based, nonprofit blood centers in the United States. In that role, Dr. Shaz directed all medical activities, including medical oversight of blood donation, hemophilia services, transfusion services, cellular therapy laboratory, bone marrow recruitment and donation, perioperative autologous services, and apheresis services. Dr. Shaz created and led their Comprehensive Cell Solutions, whose goal is to develop cellular therapies. Prior to joining the New York Blood Center, Dr. Shaz was an Associate Professor at Emory University and directed the transfusion service at Grady Memorial Hospital, and before that, she was an Instructor at Harvard Medical School and Assistant Medical Director of the transfusion service and Medical Director of the transfusion/apheresis unit at Beth Israel Deaconess Medical Center in Boston.
Dr. Shaz is President of AABB, a member of the Board of Directors of the Cord Blood Association, active member of the College of American Pathologists, and has been a board member, committee chair and active committee member of the American Society for Apheresis. Dr. Shaz has published more than 160 peer-reviewed articles and has co-edited eight books. She is an Associate Editor of the journal Transfusion and was on the editorial board of the journal Blood. Dr. Shaz received her BS with Distinction in Chemical Engineering from Cornell University and her MD at University of Michigan Medical School. She completed her surgical internship at Georgetown University, and her pathology residency and blood banking / transfusion medicine Fellowship at Harvard Medical School.